The Voice Duet 'A Whole New World'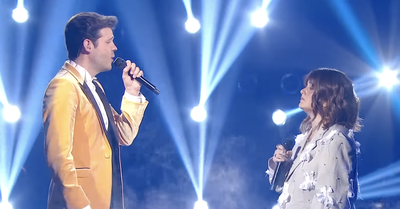 By from GodTube.com, Crosswalk.com
On a recent episode of The Voice Portugal, two contestants joined forces for a beautiful duet. Carolina Deslandes and Paulo Lapa sang the iconic "A Whole New World," a song from Disney's classic 1992 animated film, Aladdin.
The performance begins with Paulo on the stage by himself, expertly singing the song's first verse, as the clip shows. After Paulo belts out the chorus, Carolina steps out onto the stage, much to the delight of the studio audience and judges.
Right on cue and on key, Carolina jumps into the song's beautifully written second verse. Much like Paulo, it soon becomes obvious that she has also been overwhelmingly blessed with a lovely singing voice.
The two performers are shown love for their unbelievable performance. The studio audience cheers and claps wildly and, rightly so, at the conclusion of the song. The song, which is about two people in love hoping to explore and experience various parts of the world together, has a memorable chorus that is sure to get stuck in your head,
"A whole new world
A new fantastic point of view
No one to tell us "No," or where to go"
Be sure to check out Carolina and Paulo's performance! They perfectly sing one of the best and most iconic songs to ever come from a Disney film!
1 Corinthians 14:15 "What is it then? I will pray with the spirit, and I will pray with the understanding also: I will sing with the spirit, and I will sing with the understanding also."
More Videos on Crosswalk:
Behold (Then Sings My Soul) - Beautiful Worship with Hillsong United
Justin Bieber Sings "Reckless Love" by Bethel Music
Amy Grant Don't Try So Hard ft. James Taylor (Official Lyric Video)
This content originally appeared on GodTube.com; used with permission.
Photo credit: ©GodTube