3 Ways to Connect with Your Spouse This Summer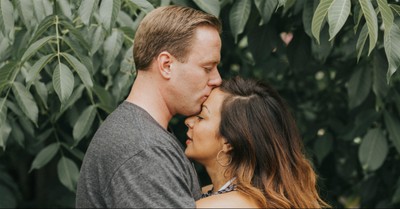 By Rachel Baker, Crosswalk.com
I start counting down the days until summer break on my kids' calendar sometime in early spring. I can hardly wait for warm days of swimming, traveling, and connecting with each other. I get so excited about my kiddos being home and our schedules being relaxed enough to get some good quality time together. I often get so hyper-focused on my kids that I forget to be intentional in my relationship with my spouse.
This summer was no different; while my husband stayed behind and worked, the kids and I jetted off to visit our extended family. Although my husband doesn't mind baching it for a few weeks, time away from each other resulted in a bit of relational disconnect. When we notice a disconnect occurring, we have to work extra hard to reconnect.
When it comes to balancing work schedules, travel, and the children being home for the summer, reconnecting can be a bit tricky. Layer on living multiple states away from extended family and the difficulty of finding childcare, and the ability to reconnect goes from difficult to seemingly impossible. Nevertheless, keeping our connection strong is not optional. If you find yourself struggling to connect with your spouse this summer, try a few of these handy suggestions:
Play Together
I jokingly call my husband "Hobby Guy," as he has many interests and hobbies that he enjoys and happens to be good at. I have dramatically fewer hobbies and am content to hang around the house reading or doing a puzzle with our kids. Apparently puzzles are far less exciting than wakeboarding or mountain biking.
At the end of last summer, my husband flew over his handlebars while out on a trail ride with our son. A concussion and face-full of stitches later, he was just as determined to get back out there and ride again. I had a choice to make, sit at home brooding and worrying, or I could get out on the trail and ride alongside my husband.
As it turns out, I had a ton of fun doing something that I never thought I'd be good at—to be fair, I'm not really a good mountain biker, but I try! The real win is that my husband appreciates my effort to get out into nature and play with him. When we ride together, the distractions of cell phones and emails all fade away, and we can focus on enjoying each other's company.
Riding down treacherous trails may not be the fun you and your spouse want to have together; nevertheless, finding something fun to do together will help you connect on deeper levels. This summer, maybe try something new together; it can be as adventurous as taking a surf lesson or as mellow as going bowling together - ultimately, just focus on fun, and connection will follow.
Start Flirting Again
Are you still flirting with your spouse? Do you remember what flirting is even like? When Kile (my husband) and I were first dating, all we did was flirt, but quickly after we got married, we moved, bought a house, changed jobs, had babies - and I'll be honest, the flirting faded. This summer, I want to be intentional about bringing that back. I want to bask in the beauty of a little marital flirtation.
I'm realizing, however, that without intention, it's just not going to happen. It's like I forgot how to flirt. It's hard to flirt when I've had a stressful day or the kids touch me out, but our spouses need our attention, and little intentional interactions can go a long way in deepening our connection with each other.
If you've gotten away from flirting, like I have, here are a couple of ideas to make flirting easier:
1. Start Small
We can connect with our spouses and make them feel seen in such little ways, from intentional eye contact when speaking to each other—for example, make an effort to put your phone away during conversations and be present—to little moments of physical touch in passing. Graze your spouse's arm when sitting next to each other or physically lean in when your spouse is talking to you. All of these interactions can build up to a deeper level of connection.
2. Be Silly
The weight and stress of life can sneak up on us sometimes. I'd love to pretend that a life walking in the Christian faith is a life without stress, but if you've been journeying in the faith long enough, you know that this just isn't true. Being silly with my husband can help soften the knots in my neck and the anxiety in my stomach. Kile is really great at knowing when I need to have a super silly dance-off. We actually use this tactic with our kids as well. It may sound ridiculous, but dancing together brings us together; if you want to connect with your spouse a bit more today, try turning up the tunes and busting a move.
3. Determine Their Love Language and Speak It
Early on in our marriage Kile and I went through Gary Chapman's book, The Five Love Languages. The premise is to break down how we receive and experience love into one of five categories: words of affirmation, quality time, receiving gifts, acts of service, and physical touch. Discovering that my husband needs words of affirmation while I feel loved through acts of service completely changed how we started to express love towards each other. If you haven't determined your spouse's love language, spend some time together this summer and discover it. If you already know your spouse's love language, perhaps implement some of Chapman's suggestions on speaking that specific language. Loving our spouses in the way that they receive or feel loved can deepen our connection and create an overall satisfaction in our relationship with each other.
Acknowledge that Summer can Be Stressful
If you're in the trenches of parenting and have your children home during the summer, then you understand that becoming somewhat of a summer-time Activities Director can weigh heavily on the family unit as a whole. More and more parents are working remotely these days, which means that we're attempting a wild balancing act of work, life, and entertaining our children while they're out of school. It feels like a lot because it is, in fact, a lot.
One of the best gifts my husband has given me this summer is simply acknowledging that during summer break, I am carrying more than I typically do during the school year. While my husband's schedule does provide some flexibility, the heaviest lifting is done by me. The way that we all balance this in our relationships varies: I have friends who split their time and co-parent as best they can together, others who need to put their children in camps, and basically everything in between. At the end of the day, giving each other grace and support can go a long way to strengthen marital bonds.
Take some time today to acknowledge your spouse. If things have felt stressful while you attempt to juggle so much this summer, talk about it. Open communication goes a long way in our relationships. Be honest with each other, express your needs and hear the needs of your spouse.
Consider this: God designed our marriages to be a beautiful thing, a blessing to our families and our communities. Taking the time to grow together as a couple can help sustain us through difficult seasons of life. Additionally, having a strong marital bond can be such a gift to us personally; it can provide us freedom and confidence and the sweet satisfaction of knowing that we are loved. The work is worth it, and I hope that you're able to find deep and meaningful ways to connect with your spouse this summer.
Related Resource: Listen to our new, FREE podcast on marriage: Team Us. The best marriages have a teamwork mentality. Find practical, realistic ideas for strengthening your marriage. Listen to an episode here, and then head over to LifeAudio.com to check out all of our episodes:
Photo credit: ©Unsplash/Kyle Bearden
Rachel Baker is the author of Deconstructed, a Bible study guide for anyone who feels overwhelmed or ill-equipped to study the word of God. She is a pastor's wife and director of women's ministries, who believes in leading through vulnerability and authenticity. She is a cheerleader, encourager, and sometimes drill-sergeant. She serves the local church alongside her husband, Kile, in Northern Nevada. They have two amazing kiddos and three dogs. Rachel is fueled by coffee, tacos, and copious amounts of cheese. For more on her and her resources to build your marriage, see her website: www.rachelcheriebaker.com or connect with her on Instagram at @hellorachelbaker.
Related podcast:
The views and opinions expressed in this podcast are those of the speakers and do not necessarily reflect the views or positions of Salem Web Network and Salem Media Group.
Read the full article here!