A Letter to the Burnt-Out Mom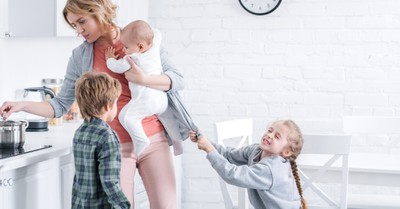 By Megan Moore, Crosswalk.com
Dear Momma,
I see you. Burnt-out, overworked, tired. Trying to do everything you can to make those kids turn out somewhere near "okay." Wondering if anything you're doing is "enough." But the truth is that you aren't enough. You aren't supposed to be. Jesus is the only person who can ever be enough, and you and your kids need to know that.
I know that you believe that deep in your soul but that it's also hard to live out. You'll get no judgment from me. I have three kids, one of whom has special needs, and I have had more than my share of moments of feeling overwhelmed and like I needed to do more and be more. Shortly after my youngest was adopted, I remember just staring at the words of Mark 6:31: "Then because so many people were coming and going that they did not even have a chance to eat, He said to them, 'Come with me by yourselves to a quiet place and get some rest.'" I remember thinking, "Yes, that. That is how I feel. That is what I need."
When was the last time that you ate? I don't mean standing over the sink or in the car jamming food into your mouth. I don't mean the last bites off your kid's plate. I mean when was the last time you really ate? Something that you deeply enjoy or something that is nourishing? Today, this very day, do not allow your family to start eating until you have sat down with them. Do not get up to serve seconds to anyone until you are done with your plate. Show your children that moms need to eat, too, and the time around the table matters. Eat slowly and think about the food in front of you. Talk about it. Where did it come from? How did it get to your home? What did you, or someone else, do to prepare it? Praise the Lord for this process. Don't rush through it, momma. There is enough time for rushing. Sit together with your family for a few minutes and invite Jesus in. Recognize that, just like with the disciples in Mark 6:31, He wants you to rest with Him so that you can get a chance to eat.
I bet you could use some rest, too. I wonder what you could take off your plate to make time for rest? What can you let go? Is it an activity? An expectation you have placed on yourself? Take some time to prioritize and decide on the non-negotiables. Here's a hint- they aren't all non-negotiables. In fact, there are probably pretty few. The single best thing you can do for your kids is to show them a relationship with Jesus. If you spend some time in prayer, learning what God really wants from you, rest will follow. Psalm 127:1-2 says, "Unless the Lord builds the house, the builders labor in vain. Unless the Lord watches over the city, the guards stand watch in vain. In vain you rise early and stay up late, toiling for food to eat– for He grants sleep to those He loves." What are you building in vain, momma? What are you watching over that you need to hand off to the Lord? It's okay to be scared of a change. Moses was scared of going to the Promised Land without help, but he asked for support, and you know what God told him? "My Presence will go with you, and I will give you rest" (Exodus 33:14.)
I know that you are rolling your eyes, right? You want to ask me, "Slow down at dinnertime? Make time to pray and prioritize?" I get it. I've been there. You can't find even a second in the day to yourself. But God controls everything, including our time. Do you really think He can't reward and bless and multiply your time? Do you really think He can't stretch the moments or rearrange the schedule? Be honest with the Lord. Tell Him that you are tired and afraid and need eight days in a week. Ask for His guidance. Tell Him everything. "Cast all your anxiety on Him because He cares for you" (1 Peter 5:7). Seek Him first, momma, then watch Him work! Have you ever noticed in the Bible how Jesus always seems to be wandering off or getting up early or staying behind to pray (Matthew 14:23, Matthew 26:36, Mark 1:35, Luke 5:16, Luke 6:12)? That's because He knew that the rest of His day would be filled with people wanting something from Him. He intentionally sought alone time with the Father because that was the top priority. It is to be our top priority, too. That's what "Seek first His kingdom and His righteousness" means (Matthew 6:33). We make Him the most important thing in our lives, and we can trust Him to take care of everything else.
In the hustle and bustle of raising kids, do not forget that God is true to His word. In Jeremiah 31:25, He said, "I will refresh the weary and satisfy the faint." I'm sure you are feeling pretty weary a lot of the time. Where is the refreshment He speaks of? How do we get that satisfaction? Philippians 4:6-7 holds the answer: "Do not be anxious about anything, but in every situation, by prayer and petition, with thanksgiving, present your requests to God. And the peace of God, which transcends all understanding, will guard your hearts and minds in Christ Jesus" (Philippians 4:6-7). Maybe we need a perspective shift. Maybe we need to pray for time and answers and energy, all while telling Him how thankful we are for family and the privilege of busy schedules. All while recognizing that none of it means anything without Him. Maybe we need to quit trying to take it all on and learn to ask for help or give ourselves some grace. And make sure that we are resting in the grace He has already given.
Sometimes when we think about being overwhelmed, we are told that we should take some time to ourselves. Society talks a lot about self-care, but that seems indulgent or a waste of time and money. Maybe we need to think about self-care less as massages and more as health–physical, emotional, and mental. Psalm 73:26 says, "My flesh and my heart may fail, but God is the strength of my heart and my portion forever." Our time with God matters! We must make take time to connect with Him. That is true self-care! And we need to care for our bodies with food and rest because they are the home to God's Holy Spirit! 1 Corinthians 6:19-20 tells us, "Do you not know that your bodies are temples of the Holy Spirit, who is in you, whom you have received from God? You are not your own; you were bought at a price. Therefore, honor God with your bodies."
I know you are tired, momma. But that's not the life Jesus has for you. That pressure comes from society, telling us all of the things that we "should" be doing. Take a break. Go to bed early. Leave the dishes in the sink tonight and read one more bedtime story to the kids. Know that the weight of the world may try to rest on your shoulders, but the King of Kings and Lord of Lords offers freedom. He says, "Come to me, all you who are weary and burdened, and I will give you rest. Take my yoke upon you and learn from me, for I am gentle and humble in heart, and you will find rest for your souls. For my yoke is easy and my burden is light" (Matthew 11:28-30).
He says His burden is light. He says you are loved. Believe Him, momma.
Photo Credit: ©GettyImages/LightFieldStudios
Megan Moore is a military spouse and mom of 3 (through birth and adoption). A speech-language pathologist by training, she now spends her time moving around the country every couple of years. She is passionate about special needs, adoption, and ice cream.
Related podcast:
The views and opinions expressed in this podcast are those of the speakers and do not necessarily reflect the views or positions of Salem Web Network and Salem Media Group.
Related video:
You can read Rhonda's full article here!