A Prayer of Blessing for Mothers & Grandmothers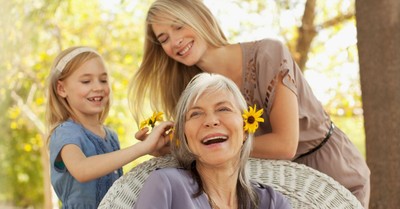 By Rebecca Barlow Jordan, Crosswalk.com
If you are a mom or grandmom, you are deserving of blessing and honor for who you are and for all you do. No matter what your age - single or married - here is a prayer of blessing for you for every good work, every good word, and for every act of love you have ever offered on behalf of the ones you love.
Dear Lord,
Bless every mother and every grandmother with the finest of your spiritual blessings today. Confirm in her heart and spirit the work of her hands and the love that she has so freely given to those children under Your care. Validate her worth daily so she has no reason to doubt whether she is loved, valued, and cherished in the eyes of her Heavenly Father.
Create in her a deep sense of your protection and trust, so that worry and fear will disappear as she places her loved ones into Your care. Let her know that every prayer she has prayed and every encouraging word she has spoken on behalf of her children/grandchildren has been transformed into sweet, fragrant offerings before Your throne.
Whisper deep within her spirit the sweet words she longs to hear from You—that nothing can ever separate her from Your love. Help her to nestle daily into the promises of Your Word, standing with faith on the things You declare are true. Let her know that You reward faithfulness, but that true success doesn't lie in her accomplishments or accolades. Let her rest in the knowledge that she has done all she can—and that she and those she loves—truly belong to you. Bless her with a servant spirit so she can teach her own the joy of hearing one day, "Well done!"
Remove any guilt, false or real, and replace them with Your amazing grace and forgiveness. Help her see her children or grandchildren through Your eyes, knowing that in Your hands is the safest place they can ever be. Calm every doubt, and strengthen her confidence in the Only One who can bring good out of any situation.
Teach her that she cannot meet every need of her child's life, but that You can. Give her wisdom and guidance to train those precious children in Your path, and then to leave the results to You, Lord. Help her to love without limitations, to pray without ceasing, and to live without regrets. Bless her with such a sweet dependency on You that she will acknowledge her inadequacies, yet recognize and accept Your reward of praise—and Your sense of pleasure in having her as Your own beloved child.
Where prayers may still seem unanswered, and dreams are not yet realized, open her eyes to see beyond this world to a Hope that never disappoints, and to a Father who will never leave or abandon her. Give her the courage to persevere even in the most difficult moments of her life. Bless her with honesty, integrity, and a playfulness that shows her children she is human, yet unswerving in her desire to know You.
Let her joy be contagious; let her passion be pure, and let her life overflow with all the blessings she deserves—on special days, and on every day of her life.
In Jesus's name,
Amen
Rebecca Barlow Jordan is an inspirational author, speaker, and passionate follower of Jesus who loves to encourage others heart to heart. She has written 11 books and over 1700 other articles, greeting cards, and other inspirational pieces. Her daily devotionalDaily in Your Presence is available for delivery through Crosswalk.com. You can find out more about Rebecca at www.rebeccabarlowjordan.com.
Photo Credit: ©GettyImages/Sam Edwards
Related podcast:
The views and opinions expressed in this podcast are those of the speakers and do not necessarily reflect the views or positions of Salem Web Network and Salem Media Group.
Related video:
Stock Footage & Music Courtesy of Soundstripe.com Thumbnail by Getty Images
---
Now available is our new Daily Prayer devotional! An easy way to start your day with prayer: read today's prayer and sign up to receive it by email.
This article is part of our Prayer resource meant to inspire and encourage your prayer life when you face uncertain times. Visit our most popular prayers if you are wondering how to pray or what to pray. Remember, the Holy Spirit intercedes for us and God knows your heart even if you can't find the words to pray.
Serenity Prayer
The Lord's Prayer
Prayer for Peace
Morning Prayers
Good Night Prayers
Prayer for Healing
Prayer for Protection
Prayer for God's Help
Prayer for Anxiety
Prayer for Strength