A New Beginning with Greg Laurie
Listen on FaithTalk Atlanta 590
Monday
5:30AM - 6:00AM, 11:00AM - 11:30AM, 8:00PM - 8:30PM
Tuesday
5:30AM - 6:00AM, 11:00AM - 11:30AM, 8:00PM - 8:30PM
Wednesday
5:30AM - 6:00AM, 11:00AM - 11:30AM, 8:00PM - 8:30PM
Thursday
5:30AM - 6:00AM, 11:00AM - 11:30AM, 8:00PM - 8:30PM
Friday
5:30AM - 6:00AM, 11:00AM - 11:30AM, 8:00PM - 8:30PM
Sunday
5:30AM - 6:00AM, 3:00PM - 3:30PM
Latest Broadcast
How to Be a World Changer
4/19/2021
Believers in biblical times effectively turned their world upside down for the Lord (or perhaps we should say right-side up). Pastor Greg Laurie says we, too, can change OUR world. Monday on A NEW BEGINNING, he offers 10 principles to help you become a world changer. Tune in for the start of a new . . .
Featured Offer from A New Beginning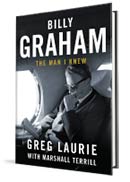 In thanks for your gift, you can receive 'Billy Graham: The Man I Knew' - Book
One of the things I love best about Billy Graham is that he was the same person in private that he was in public. He genuinely cared about people and listened to them, and he obeyed the Lord's calling for his life, family, and ministry. I've written a new book about him! We will mail you a copy when you make a donation of any amount to Harvest Ministries today!